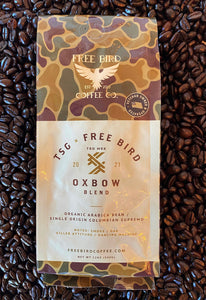 100% Organic and Single Origin Colombian Supremo Beans
Whole Bean or Ground
Medium-Dark Roast

Full Flavored Brew

High Elevation Grown

Shade Grown

Colombia

Single Origin

Supremo Beans (Highest Quality in Colombia)
TSG & FREE BIRD OXBOW ROAST
COLOMBIAN ROAST
For the Woods, Wing, and Water. TSG is an outdoor apparel brand focused on the Good Life - A.K.A., THE SPORTING LIFE.
For this amazing Roast we partnered up with our friends over at the The Sporting Gent in Charlotte, NC. These guys embody everything woods, wings, and water with a splash of good coffee! These great outdoorsmen have developed their own Oxbow Camo which we have used to cover our newest Colombian Roast. Together you get a quality coffee in a unique and impressive pattern. 
COFFEE NOTES
SMOKE/ OAK/ KILLER ATTITUDE/ DANCING MACHINE
WHOLE BEAN & GROUND
SMOOTH & BOLD
This Colombian Roast is made from carefully selected Colombian Supremo Beans. The highest quality and largest beans in Colombia for maximum flavor.
This Roast has a bright acidity, sweet, rich flavor with a hint of smoke.
100% Organic Arabica Beans, Single Origin
Medium/Dark Roast
WARNING: IF YOU POUR THIS COFFEE AND MENTION YOU "LOVE THE AROMA" YOU'LL BE IMMEDIATELY AND JUDICIOUSLY CANCELLED (JUST KIDDING, BUT DON'T).