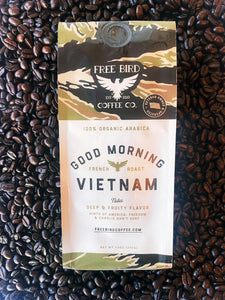 - French Roast Ground Coffee in 12 ounce bag -
100% Organic

Dark Roast/French Roast

Strong Full Bodied Brew

High Elevation Grown

Shade Grown

Nicaragua

Single Origin
Free Bird Coffee's GOOD MORNING VIETNAM French Roast is our darkest roast. This coffee is a full-bodied, strong brew with mild acidity, delicious fruity notes and an intense flavor.
The high quality/high grade Arabica beans we use to roast our GOOD MORNING VIETNAM French Roast are Single Origin and 100% Organic! These beans are shade grown at high elevations in Nicaragua. 
Our Tiger Stripe Camouflage pattern coffee bags pay homage to the American Special Operations Forces that adopted the pattern for the fierce jungle warfare in Viet FN' Nam Man!. This Tiger Stripe pattern derived from an older French Lizard camouflage, thus the connection to our GOOOOOOD MORNING VIETNAM FRENCH ROAST!
Enjoy this brew hot or over ice!
$1 From Every Bag Sold will be donated to America's Gold Star Families!